Nissan Z ExtravaganZa
A deep dive in the history of the classic Nissan Z
To give a background on Hector, our Editor-In-Chief Doug Stokes, put together an introduction for LACar's Z Car expert: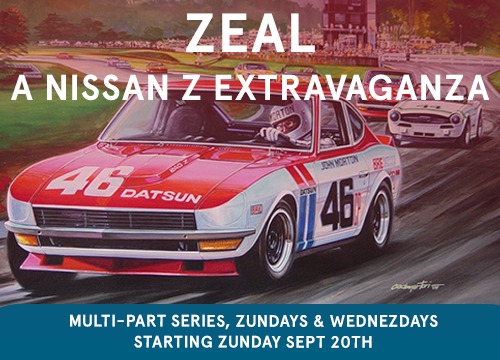 The Nissan Z-model sports cars have always commanded great respect and have forever been on the receiving end of a lot of compliments and kudos from both the motoring press and the public … Here our own author/artist Hector Cademartori offers his personal views about of one the latest books on the subject and favors us a couple of quick stories about the vaunted marque along with a couple of his illustrations of the most famous competition machines of the honored line.
By the way, Hector puts his butt where his money is (so to speak anyway) owning "… more than two, but don't tell Flori*" Z-machines, and racing one of them in west coast vintage events as a respite from his work on both key and drawing boards.
His motorsports adventures with his vintage 240 also give him a chance to host regular Argentine chimichuri luncheons at the track … Stop by, there's always enough for one or two more.
[*editor's note: Flori is Hector's patient wife]
Who really knew how long ago it was when early "super" computers were used to help design the iconic Nissan Z-Cars that so many have rallied around here on the LACar website and in person all over the country. Who knew what it was like to hang with the partisans for four whirlwind days of Z-madness out in Nashville … and who knew that massive promotional printing jobs sometimes go a bit awry.
The one thing that everyone here at LACar seemed to know right out of the box was that Z's were quite special in many ways to many people … that was easy.
We really need to thank all our intrepid guest writers and photographers Dan Banks, Peter Evanow, Ian Stewart, Jeff Agner, Mark Adams, Carl Beck, Chris Karl, Ben Bagwell and Max Ball who each contributed so much to making this package the most popular feature that LACar has ever run.
We also want to recognize our friends at AutoBooks in Burbank for hosting the little impromptu Z Car show (and the donuts and coffee too!) while author Pete Evanow was there signing copies of his great new book on our favorite subject aptly named: Nissan Z – 50 Years of Exhilarating Performance. (a limited number of author-signed copies are available at: www.autobooks-aerobooks.com)
Last, but (quite) far from least are the two LACar staffers that put this whole deal together and not only made it fly, but made it look good and make sense as well, our tireless editor Collin Morgan and our artist/journalist Hector Cademartori.
Included Articles